Hi

S

e

a

r

c

h

F

r

e

a

k

s

, Today I am happy to be honored as a climate change fighter. Today I received a appreciations Certificate from Brighter planet. Brighter Planet is a organization fighting against climate change and also making aware people for the climate change. Brighter Planet is conducting the 350 challenge. The 350 Challenge is a small way to show your support to fight climate change. As I am also a part of it; you might be knowing if you are my regular visitor, that in my last post I wrote about the climate change video contest… Actually I am a very energy conscious, and natural resource lover person…My self never wasting the electricity, water,& most often I use to go through walk in near distances, most probably avoids bike or car, because I know saving Earth Atmosphere and energy will directly affect my next generation, being clear, it will directly affect to my children. I would like to show you the Certificate(Planet Shares) I received from Brighter Planet below is the picture.
If you have Blogs Or Websites than add the Climate Change Badge from 350.brighterplaner.com to make aware people about Climate Change.. Thousands of readers will know that the climate movement is spreading far beyond the typical "environmental" realm and into the norm. Click on the Badge(Picture) to get it…..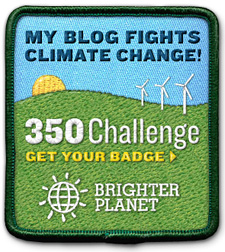 Or go to the Link to get the badge for your Blogs or Websites, Click below link http://350.brighterplanet.com/ To know more about Brighter Planet , Below is the main website link. http://brighterplanet.com/
What You Do! Is More Important than what other people or brighter planet do. It's My Personal Appeal From You To Save Earth, Energy, Atmosphere, Water, Tree…. In Your Way As You Like Help To Reduce Carbon In Atmosphere… Yours SearchFreak..